'Robbed' not in the strictest sense, but yes there was theft at my house yesterday. The lovely dudes took away my Nikon D90 along with the 18-105 lens, and Dell XPS (my lovely old wife). Yes, I'd recently ditched my wife for a super hot Macbook Air, but she still was a companion. Polygamy is amazing!
The Prologue
I come home from office, all hungry and tired, and find the iron gate without a lock. The first thought that hits me is that maybe my cook's inside and has forgotten to lock the door. Sigh! If only it was true.
I enter the hall, switch on the lights and find the wash basin broken in pieces and lying on the floor. A whole lot of stuff lying on my study table. Thankfully, my bookshelf seems untouched. My bike is still there. I feel hopeful. I walk with a heavy heart, but high hopes, to Bedroom #2. The camera bag is lying on floor. I pick it up and it feels lighter than ever. I've always wanted it to weigh a little lighter while traveling, and my wish is granted. My Nikon is gone.
Then I remember my roommate's camera pouch, which by the way looks like a camera bag unlike my camera-cum-laptop-cum-lenses backpack, and lies next to it. It's still there. I lift it. It's still heavy. Some joy. Some confusion.
Everything else seems to be in its original place, including the camera's battery charger, and our newly washed and ironed clothes. I remember I've a Dell in the other bedroom. I don't want to know, but I must. Alas and damn the human inquisitiveness.
Her cooling pad is in place. Her power cord is in place. But she isn't. She's left me.
Was it me cheating on her with an Air? No no, it can't be. She still loved me. She loved my polygamy.
O' 3rd generation kindle-cover-with-light, Thank you!
I notice my new and shiny, but slightly twisted kindle cover lying between the cooling pad and the new and shiny "Depths of the Ocean -Sushmit Sen" music CD (which by the way is as amazing as hyped). My heart sinks little more. I pick it up. It's still heavy. It doesn't make sense. I open the cover and there's "Jules Verne" looking as thoughtful as ever (To non-Kindle users, Kindles have standby wallpapers). But he seems a little sad today.
On further investigation, we later realize that they did indeed try to snatch the device out of the cover, and twisted it in the process, but failed. And so they left it. Apparently, they like to travel light. Why else would they leave the laptop's power cord, or my awesome camera backpack (which also had my small HD video camera in one of the lens pouches, along with my portable HD and some Macbook Air accessories).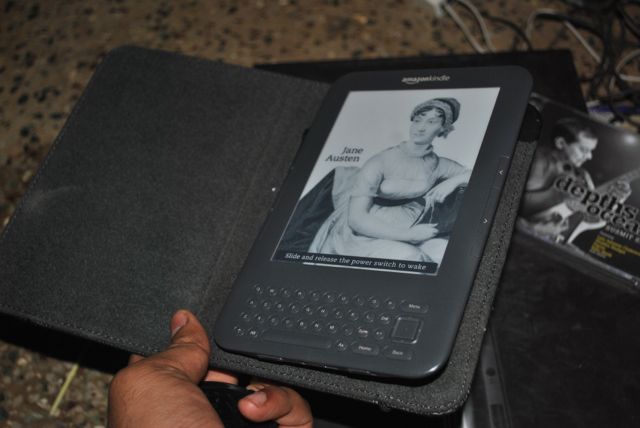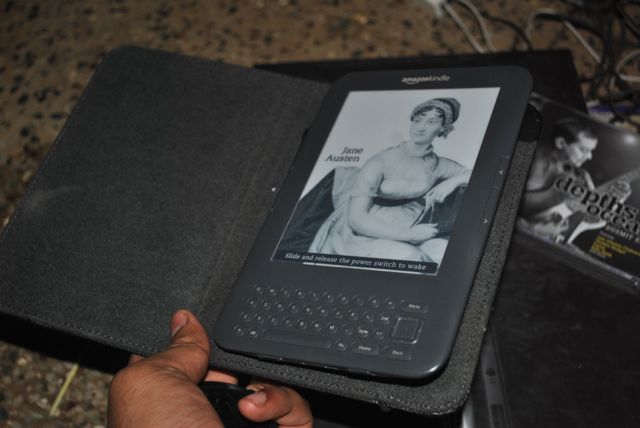 Oh the plunder! Oh the horror!
At some point -I know not when, and for some reason -I know not what, I realize that if they've broken the wash basin in the hall, it is possible that they have made violent love to my other wash basin. Akin to characters who are about to die in horror movies, I open the door of my bathroom adjacent to bedroom #1. These characters in the movies know that what they discover besides the door might get them killed, but they still open the door. And so do I. Alas and damn the human inquisitiveness.
Lo and behold! There's huge dirty stone lying on the floor along with the the pieces of my lovely wash basin. The basin which I'd cleaned and polished and shined just a couple of days ago. Lying on the floor, like a tired prostitute. (Not that I'd know what a tired prostitute looks like.)
Sadly this isn't the end of the terror story. As my gaze rises from the floor and falls upon the walls, my emotions run an all time high. If I weren't shocked with what I saw, I would have surely been proud of my emotions which run so fast and so high like a tide.
They have taken away all the water taps and shower knobs and flush pipes and shower thingy and the cloth hanging rod thingy.
And they haven't unscrewed them. No sir!. Rather used stones to break them from the walls -an act which as we would later discover, may cost us around 20K. In the end, I do wish they'd unscrewed the components rather than screwing us like that.
I move to the other bathroom. It's confirmed, they've screwed us here as well. Oh yes, how can I forget the kitchen!
Getting screwed at so many different locations in such a short span of time has left me tired. I want to sit down now.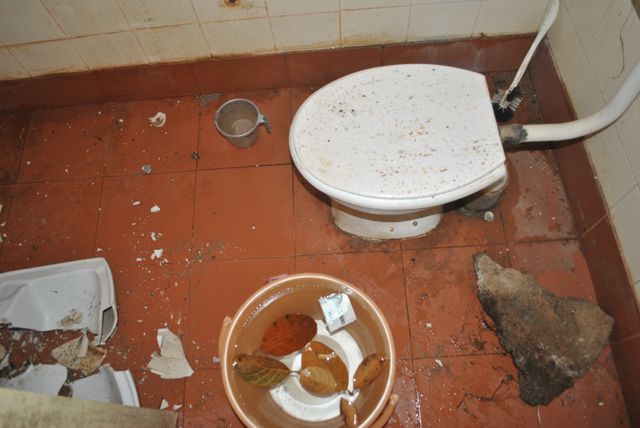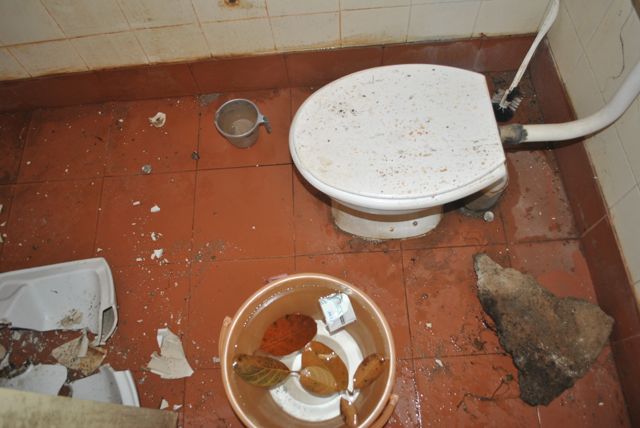 12 Angry Men (or may be just 5), and their analysis
So I call my roommate Abhijit, and my friend Dabbu in the meantime. Dabbu also gets his elder brother and roommate with him.
It is important to note that both of these men have had theft at their previous houses. Both have lost their laptops. Yeah, same pinch. I know!
All the five do what any reasonable person who's had a theft at his place does. Socialize with neighbors and police, analyze, and bitch about it.
No, none of this matters and it seldom makes any difference. But you must. It's a social custom. Ask Dr. Sheldon Cooper.
We talk to neighbors, call police, analyze and discuss and analyze again. The modus operandi is investigated and debated. Police guy, who is a rather soft spoken guy for a change, notes down details in his diary, sympathizes with us, and leaves.
Here's how our final analysis looks like:
* It could have be my roommate. After all none of his stuff was stolen
* While we are at it, it may have been Dabbu. Apart from the fact that he loved my camera, he's studied in a KV (Kendriya Vidyala), the same school where my younger brother went. And we all know how talented KV products are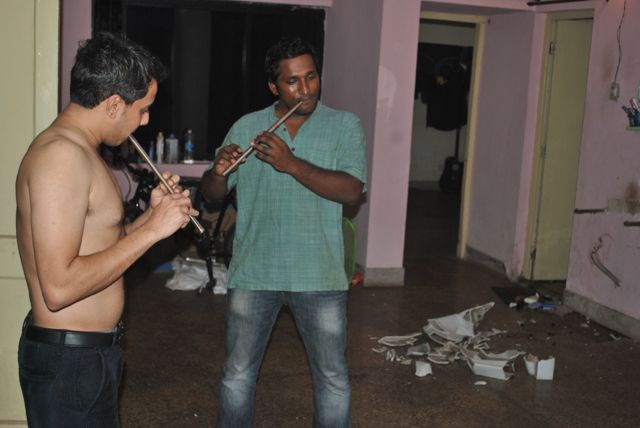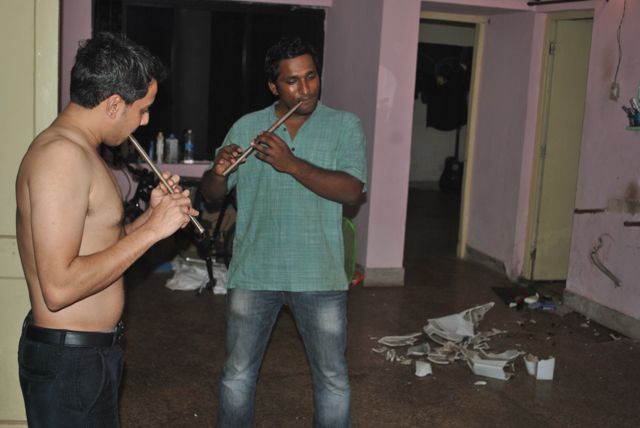 Reconciliation
The entire post may present a jovial outlook. Part of it is forced, but mostly natural. I owe the jolly response for materialistic loss to a certain event in my life.
Years ago when I was in B.Tech, one fine evening my hard drive crashed. It wasn't out of the blue. Remember the text mode Linux installations? Yes yes, fdisk and stuff. Yeah! So the hard drive crashed and I lost everything. All the songs, and the movies, and the songs, and the software, and the songs. It was the end of my life as I knew it. I crashed on my bed too.
As I was brooding on my cot, trying to analyze my options of data recovery, one question constantly and repeatedly came up –Now what?
The question was rather simple, and I didn't have any answers, but it did have a profound effect on me.
It's funny how we existentialists look around for answers all our lives, and how a simple question can liberate us.
It's funny how we brood over our problems, and the acceptance of lack of a solution helps us reconcile.
Yes I loved my Nikon D90. I have been getting better with every picture I clicked. I loved when my friends smiled at the pictures I'd taken of them. I was looking forward to handing over the Dell to my brother, who's been having problems with his laptop.
But well, it can't be anymore. If it can't be, it won't be. If it won't be, what am I going to brood over?
As Ghalib said:
Na tha kuchh toh khuda tha, kuchh na hota toh Khuda hota,
Duboya mujhko hone ne, na hota main toh kya hota.
[P.S. All said and done, why did those bastards have to take the taps man. There's no water at home. Sigh! :'( ]
Update 1: Apparently, these thieves may have been addicts. It's easier and quicker to sell off bathroom accessories.
Update 2: I finally managed to get an FIR filed. One the 11th day, mind you. Yeah, I know. We might be better off without a police department.